Tuesday, October 13th, 2015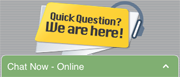 You may have notice that the chat system on Register4Less.com's website is different.   You'll see the image on the right on the bottom right of your screen.   Our previous chat application was only available to visitors of our website when they were not logged in.   Our team is extending the availability of chat hours to the following:
Weekdays: 8:30 – 20:00
Weekends: 10:30 – 20:00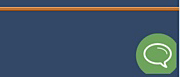 On Mobile devices, the chat icon will look like the green bubble image you see on the right.   The chat application works on all operating systems, tablets & smart phones, not only for you, but from our end as well.  This gives our staff the ability to answer a chat and help a customer even if away from the office.
There are a number of new features that this chat system provides that allows our support team to provide even better customer support for you when you connect with us online.   The chat system opens up new possibilities with new features such as:
Our support agent can see what you are typing as you type, allowing us to respond more quickly.
The app keeps a history of chats, so if we need to go back to something from a previous session, that's possible
Under Options, you can upload a file (show us a screen shot of the problem you're having for example), email or print a transcript of your can't, etc.
The chat from our end is not only web based.  Their are native apps for Windows, MacOS, iOS, Android
The team here at R4L always tries to do our best to provide you with the best possible customer service, and we're all very excited about this new tool that will help extend our hours of support, and provide you with a better customer service experience.