New FTP Gateway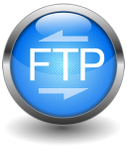 Register4Less.com's new FTP gateway allows you to connect to all of your sites using a common configuration.  The new FTP gateway that makes publishing your website work in the same fashion whether you are using one of our advanced hosting plans or the free 10MB hosting we provide with your domain registration.
In the past, if you upgraded from the 10MB service to one of the advanced hosting plans, we would migrate your website over to the new AHS server, but you needed to create an FTP account on the server if you wished to publish using FTP.  Now however, you can connect to our FTP server on ftp://ftp.R4L.com, and the server will check which type of hosting plan your domain has and on which server, and then connect you to the right place.
FTP Settings
For our complete step by step guide on how to setup your FTP program, please see this help page on our Wiki.  To connect, you will use the following settings:
Server Host Name:  ftp.R4L.com
Username: your_domain_with_extension
Password: Same as you use to manage your domain
As an example, if you have a domain name called my nonevil.com, and the password to log in and manage the domain is "changeMe" (that's not the real password), then to connect via FTP, you would conifgure your ftp program with the following:
Server Host Name:  ftp.R4L.com
Username: nonevil.com
Password: changeMe
Of course this is an example, and not actual account settings.  So now, regardless of which hosting platform you use, you can use the same settings to connect and update your website.
*Note: you may still connect *directly* with the FTP server, but this will help transition customers coming from the basic hosting platform.
Tags: advanced hosting, free hosting, FTP, publishing, website hosting, website maintenance